If you want to make it easy for folks to invite people to meeting or church, get some invitation cards. Business cards are the right size because they're made to fit in your wallet. We've all got some way to carry something that size.
They're also pretty cheap. My meeting got 500 made up (color on front, black & white on back) for about $20 using a VistaPrint coupon.
What should invitation cards say?
If your meeting is the only one in the area, what goes on your invitation cards is pretty straightforward:
Meeting name
Web address
Meeting place
Meeting time
Phone number
Tagline
But what about if you're in a city with many meetings? Here in the Washington, DC metro area we've got a half dozen meetings. The people you run into walking around town might live on the other side of town from you. In that case, inviting them to your meeting won't make so much sense.
Several meetings here had cards made up that say "DC area Quakers?" in a speech bubble (since "we have Quakers in this city?" is a reaction with which many of us are familiar) on the front. It gives the name, street address, and web address of the meeting to which the person carrying it belongs. There's also a web address for a page that lists all the meetings within a 45 minute drive. Then, on the back, 5 more meetings are listed, by neighborhood or part of town, not necessarily by name. Their web addresses and street addresses are given too. At the bottom, it says "come, seek the Spirit with us" and "casual dress."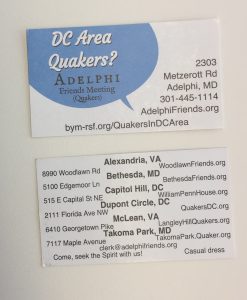 Why list "casual dress"?
Let me tell you a story. I am a white woman. In 2009, over Thanksgiving weekend, my family went with some friends of ours to their church. It was a Black church. If you've ever been the only person of a given race in an otherwise racially homogenous church, you know that when the question "do we have any visitors?" comes up, all eyes turn to you.
Well, I asked my brother if he'd like to try out "Quaker church" when I came home to visit at Christmas. I'd only been to meeting a few times. He immediately exclaimed "I can't go to a Quaker church!"
I was confused. "Why not?"
"I don't have Quaker clothes. I'll stick out worse than we did at the Black church!"
I eventually convinced him that he was thinking of Mennonites. However, this does illustrate that when most people think of Quakers, they think of the man on the oatmeal canister or of Old Order Mennonites and Amish.
Even if they don't have that association, they might be accustomed to getting all dressed up in (ahem) "Sunday go to meeting" clothes when the words "Sunday" and "worship" get together.
In either case, it's helpful to let them know on your invitation cards what style of dress will make them feel the least out of place.
Catching eyes
What can you do to make your invitation cards more memorable? If you're willing to spend a little extra, you can get some different shapes.  VistaPrint offers rounded corners. Others do too. Church Ink has folded business cards. They're like teensy greeting cards!
Sometimes you'll see circular or square ones too, but often they're larger than wallet-friendly. A standard business card in the US is 2 inches by 3.5 inches. Keep that in mind.
If your meeting/church has invitation cards, can we have a photo? Let's build up a gallery of examples here.